The Last Weynfeldt by Martin Suter **Hunt for Read October No Exit Press Celebrations #NoExit30 **
This week, No Exit Press are celebrating 30 years of independent publishing in crime titles and are releasing six titles in e-book format into the UK. These books have previously only been available in the USA. They will be released in paperback form in 2018. I have chosen to feature one of these titles: The Last Weynfeldt by Martin Suter. Here's a little about the story:
Adrian Weynfeldt is an art expert in an international auction house, a bachelor in his mid-fifties living in a grand Zurich apartment filled with costly paintings and antiques. Always correct and well-mannered, he's given up on love until one night--entirely out of character for him--Weynfeldt decides to take home a ravishing but unaccountable young woman. The next morning, he finds her outside on his balcony threatening to jump. Weynfeldt talks her down and soon finds himself falling for this damaged but alluring beauty and his buttoned up existence comes unraveled. As their two lives become entangled, Weynfeldt gets embroiled in an art forgery scheme that threatens to destroy everything he and his prominent family have stood for.
My Thoughts
This is an elegantly written novel which captures the rarefied world of Fine Art which the protagonist, Adrian Weynfeldt, inhabits. In his controlled and predictable world, there is a large cast of people: the rich, art experts, art forgers, con men and women. He has led a protected life - secure and yet somewhat isolated. I found Adrian to be such an interesting character who it was hard to second guess. He is not a recluse and regularly meets others but still comes across as lonely and full of regret over the woman he parted from when he was younger. Although he is a renowned art expert, astute and well regarded, the vacuum at the centre of his life seems to make him susceptible to the manipulators and the greedy. I never quite knew what he was going to do next.
The other aspect of the book which I appreciated was Martin Suter's detailed descriptions. This surprised me as I usually prefer dialogue to description. He was able to conjure the atmosphere through little details and I could visualise exactly where the action was taking place. He seemed to paint the scene, almost like the paintings which Adrian spent his life examining. The story unfolded at a steady pace and I found the ending to be wholly satisfying, if unexpected.
In short: a cleverly crafted crime novel with nuanced characters and an intriguing plot.
About the Author
Martin Suter is a writer, columnist and screenwriter. Until 1991 he worked as a creative director in advertising, before deciding to focus exclusively on writing. His novels have enjoyed huge international success. He has also written screenplays for film and television, and several of his novels have been made into films. Martin lives in Zurich with his family.
Book links: Amazon UK (
ebooks will be discounted to £1.99 from the 10th October - 23rd October)
Thanks to Anne Cater and No Exit Press for a copy of the book and a place on the Blog Blitz.
Check out the Hunt for Read October
#ReadOctober #HuntforReadOctober #NoExit30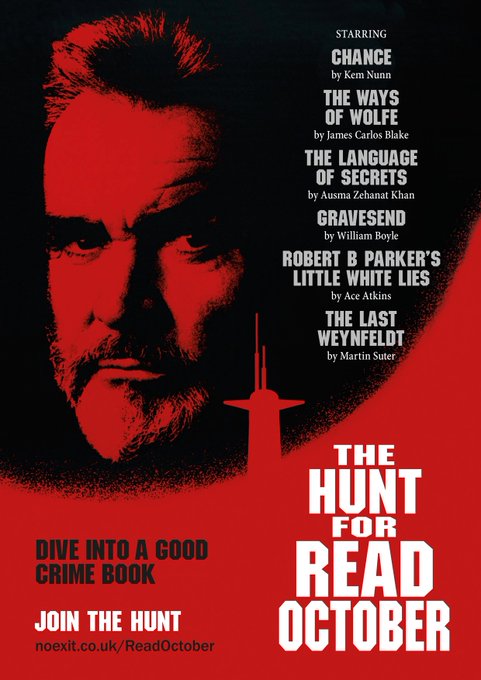 10th October - Chance by Kem Nunn
11th October – The

Last

Weynfeldt

by Martin Suter
12th October -Robert B. Parker's Little White Lies by Ace Atkins
13th October – Gravesend by William Boyle
16th October -The Language of Secrets by Ausma Zehanat Khan
17th October – The Ways of Wolfe by James Carlos Blake